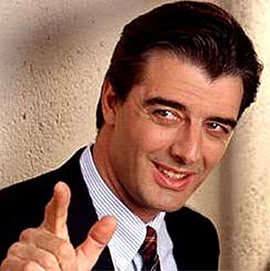 Hi friends. Well, I got my hand on some more pages of shooting script from a good associate who goes by the name of MANHATTENSFINEST-001 . He/She is a PA on the set, and he has some juicy azz gossip for all of you all players and people out in there. Well, I don't want to reveal who this person is, but I will tell you that he/she was privy to some GREEN SCREEN shots of a one MISS KIM CAT-RAL yes, I emphasized CAT because of the HARD HITTING sequence in the SITC movie wherein she MORPHS into a cat. I'm so sexed up thinking about it, and I know you are too, sick fucking perverts.
So, anyways -- check it out, as I established, she has a rigorous STD that cannot be diagnosed in the film, and she is still dating that Calvin Klein dude, who is going to have a mustache in the flick (Tres Retro!!!). In this sequence, Carrie is having a date with a male suitor who she is dating to make MISTA BIGG jealous, as he will not marry her. She has on a white tumbled cotton frock, orange halter style Gautier' shenswa, orange make up, and a clown hat/purse, she looks fab and knows it. She has worked out really hard, so she has 0% body fat which looks good on her face especially (not in the script notes). Anyway, our girl Carrie is walking down the street and has some TOP NOTCH dialog to boot:
CARRIE: Oh, wow [looking at city lights] and burrrr...I'mmm coolllld! [tittering]
MALE: Yeah? So -- why don't you wear a jacket next time.
CARRIE: Well, a real gentleman would offer---
MALE (cutting her off): would offer you this...?
THE MAN MOTIONS TO A FAB MINK COAT WHICH IS HANGING OFF A HOMELESS PERSONS NECK.
MALE: See they -DO- have a purpose Carrie.
The two laugh as Carrie grabs the coat from the homeless person. She puts it on, and smiles. She does LOOK AB FAB!
MALE: This is what it would be like...to be....with me.
The two share a moment.
SUDDENLY A helicopter is heard overhead, and a man is DROPPING DOWN from a rope. He drops directly between them MISSION IMPOSSIBLE STYLE.
MISTER BIG: Did someone say 'be with me'? [TO MALE] Well, I wouldn't be with you if you were the last person on earth --
CARRIE: AWE! BIGG. Argh! Harumph! Always in the wrong place at the wrong time!
Male looks to Bigg in astonishment -- he feels like he's staring at a statue of jesus himself!
Bigg looks at Carrie and the two lock eyes.
MISTER BIG: you see Kid, me and you -- we goin places. To the moon!
BIG motions up and his helicopter drops another rope...the two asend toward the moonlight.
OH MY GOD!! THIS IS SO EXCITING!!!!! I CANNOT WAIT FOR THIS. I HOPE SOMEHOW THEY CAN WORK UGLY BETTY INTO THIS!!!
Peace, 'Troy'